Hufeland Klinik for Holistic Immunotherapy
Note: The "best case"series retrospective review described below at its inception, was subsequently published in the peer reviewed journal, "Integrative Cancer Therapies" in June 2005. The name of the article is Cancer Outcomes at the Hufeland (Complementary/Alternative Medicine) Klinik: A Best-Case Series Review
The link for the journal is http://ict.sagepub.com. There may be a cost to view it. You should be aware that one of the requirements of a best case series study protocol involved obtaining the original pathology slides or radiology films to validate the cancer diagnosis. Unfortunately, many of Hufeland's cases were disqualified because these original slides or films were no longer available, had degraded in quality beyond usability, or proved extremely difficult to obtain by Columbia University. You should also know that Dr. Woeppel is now deceased, however I am told that his protocols and teachings are being carried on by his appointed successor.
(The clinic report that follows was created between 1999 and 2003 and some information will no longer be valid.)
ADDRESS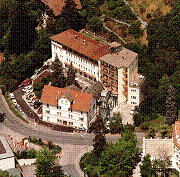 Loeffelstelzer Str. 1-3 D-97980 Bad Mergentheim
Germany
Phone: 011 49-7931-5360 (best times are Mon/Thur 10AM-12 or 3-5PM, German time, which is 6 hours ahead of Eastern Standard Time)
Ask to speak with Mrs. Gabriele Woeppel, Mrs. Johanna Bankoff or Mrs. Birgit Schrott
FAX: 011 49-7931-8185 Website: www.hufeland.com (there is an English version available - click on the icon in the corner). Also see www.drwoeppel.de (in English)
Email: WDrwoeppel@aol.com
PHYSICIANS/STAFF
Wolfgang Woeppel, MD, three other physicians are on staff and work under the direction of Dr. Woeppel.
LOCATION:
The Hufeland Clinic is in Bad Mergentheim, a picturesque medieval town, with powerful and well-known healing springs. It is situated 40 km south of Wurzburg. The nearest airports are Stuttgart or Frankfurt, Germany. Train service is also available from either city to Bad Mergentheim.
CURRENT STATUS WITH NFAM
The Hufeland Clinic "best case&" retrospective study series is currently being conducted following a review by Columbia University in New York. NFAM staff have completed site visits, interviewed patients, and a NFAM physician has made patient rounds with Dr. Woeppel.
There are 27 charts in the best case series, at this point complete records have been received on ten of these. The first 16 cases are:
Metastasized melanoma by primary tumor

Boeck sarcoidosis

Metastasized ovarian cancer with persisting peritoneal cancer after polychemotherapy

Metastatic breast cancer with lung metastases

Adenocarcinoma

Metastasized breast cancer with bone metastases; external skin cancer; lymph node metastases

Ewings sarcoma and lung cancer

Small cell bronchial cancer with brain metastases

Ovarian cancer with peritoneal cancer

Metastasized signet cell cancer with peritoneal cancer

Behr's disease/Astrocytoma Grade II

Extensive lymphogenic and hepatic metastasized colon cancer with inoperable liver metastases

Extensive right frontal glioblastoma multiforme, WHO Grade IV

Breast cancer

Metastasized ovarian cancer with lung and liver metastases

Extensive lymphogenic metastasized coecum cancer
NOTE:The following description of potential best cases is preliminary in that the final determination about these cases has not been completed by Columbia University. Final and validated study results may be available summer/fall 2002. Of the ten best case charts currently included in the Columbia review, the following evaluation is available as of May 2001:
As of May 2001, the Hufeland Clinic "best case series" is still a work in progress. There are 10 cases under review at Columbia University's Herbert Irving Comprehensive Cancer Center (www.ccc.columbia.edu). Columbia University has vast resources and depth of expertise to dedicate to this review; it is a National Cancer Institute designated comprehensive cancer center. The cases are all being reviewed by Columbia's pathology and radiology departments. The process is being coordinated under the direction of oncologist Victor Grann, MD. Most of the cases are currently undergoing review of the radiologic images. The pathology slides have been reviewed and validated in 6 of the 10 (the other 4 slides have not been obtained yet). NFAM's intention is to publish the best case series when the review is completed.
The first 3 patients in the series had anaplastic astrocytomas of the brain.
The first was a 5 year old boy, whose tumor extended into the optic nerves and central brain areas and so was unresectable, but after treatment at Hufeland he has been in a long term remission for the past 15 years.
The second was a 42 year old man whose tumor recurred after surgery, chemotherapy and radiation therapy, and was unresectable on the second operation. Tumor was present on CT scan in October of 1988 when he started treatment at the Hufeland clinic. Since then the tumor resolved and he remained in complete remission for 8 years before dying of a stroke (final CT scan of the head showed no brain tumor recurrence).
The third was a 52 year old woman with glioblastoma multiforme (which Columbia's pathologist read as "anaplastic astrocytoma versus glioblastoma multiforme"), recurrent after chemo, radiation and surgical extirpation, who went into remission following Dr. Woeppel's treatment. She lived in good condition until 6 years later when she died of a progressive toxic meninges dystrophy as a consequence of the radiation therapy she had received.
The fourth patient was a 15 year old boy who had a malignant glioma of the pineal gland in the brain diagnosed in 1982. The tumor was unresectable and became progressive despite radiation therapy in the 4 months after biopsy October 1982, but went into long term remission after starting Dr. Woeppel's treatment January 1983. He is alive and well today.
The fifth patient had colon cancer with multiple unresectable liver metastases diagnosed 1995, with a long term remission. He is alive and well today.
The sixth patient was a 59 year old man who had transitional cell bladder cancer diagnosed July of 1989, with a mass in the bladder obstructing the right ureter. In this case radical cystectomy and chemotherapy were refused by the patient. Long term remission occurred after treatment at Hufeland. He is alive and well today.
Two cases of ovarian cancer are under evaluation: one is a 37 year old woman with papillary serous ovarian carcinoma, who was 1st treated with high dose chemotherapy and then stem cell transplant, but then developed metastases to pleura and a mediastinal node. She is in remission now after treatment at Hufeland. (She also was receiving another concurrent treatment [AK 125] at the University Clinic Bonn. It is not known if this can produce remission in ovarian cancer, but we are looking into it.) This may or may not turn out to be a best case.
The other ovarian cancer patient had adenopapillary ovarian carcinoma, with recurrent cancer in the abdomen following chemotherapy, and finally whole abdominal radiation therapy. She presented to the Hufeland clinic age 44 in 1987 after peritoneal carcinomatosis had been diagnosed by laparoscopy and biopsy. She went into remission following treatment at Hufeland, and reported excellent quality of life for the following 12 years. Then in January of 1999 she developed cancer in the kidneys and the pancreas (for which she was at increased risk due to the previous chemotherapy and whole abdominal radiation therapy), and died August 1999.
There are two patients in the series (the 9th and 10th) with metastatic malignant melanoma. One was a 57 year old woman, whose primary melanoma was on the arm. Twice she had to have operations to remove large tumors in the intestines due to metastatic melanoma (June 1989 and October 1990), but then in March of 1991, she developed a large inoperable pelvic mass severely narrowing the rectum and right ureter. She began treatment at the Hufeland clinic June 7, 1991, and after some time had complete relief of the pain and constipation. She went into complete remission and remained free of melanoma until she died April 1997, possibly due to recurrence to the base of the brain--there was no autopsy.
The other melanoma patient developed frequent skin recurrences in the thigh every 1-2 months following the resection of the primary from the skin of the thigh. He then developed metastases to the subcutaneous fat and inguinal nodes, which recurred locally after resection, and became unresectable, with several masses in the thigh and inguinal areas as large as 4 cm in 1992. He also went into lasting remission after treatment at Hufeland. He is alive and well today.
In addition, there is a case of a patient with mesothelioma which we will be reviewing which is probably a best case because a large tumor mass in the chest completely resolved with treatment at Hufeland, however this case is disappointing in that the patient relapsed within a year or two.
Note that in none of these cases was any conventional treatment used concurrently, either at Hufeland or elsewhere, once treatment at Hufeland began. No interferon or interleukin II was used in the melanoma patients. Since the definition of a best case excludes those treated with conventional agents which are known to affect the disease, hormonally responsive tumors, such as breast and prostate cancers which are often treated at Hufeland with hormonal therapy, cannot be studied by the best case series methodology. Dr. Woeppel showed us, for example, 3 cases of breast cancer with excellent outcomes, but these do not qualify as best cases because of his use of hormonal therapy, and in one case, low dose chemotherapy.
Because of the large number of well-documented potential best cases at this clinic, NFAM is impressed that the treatment at the Hufeland clinic may be effective treatment even in advanced cancer, and is worthy of further study. We hope to publish the findings of the best case series as soon as the validation at Columbia is completed.
Dr. Woeppel and NFAM have proposed to conduct a phase II trial of the treatment of a series (15-30 patients) with glioblastoma multiforme, the most aggressive brain malignancy with the worst prognosis, at Hufeland. The study would be run by Columbia University, who would oversee the trial design, validate the findings, and analyze the data. We are currently seeking funding for this prospective study.
PROSPECTIVE STUDY PROTOCOL (currently under consideration)
Two prospective trials have currently been proposed and arrangements are pending: the first study on 15-30 patients with metastatic unresectable malignant melanoma and the second study on 15-30 patients with recurrence of glioblastoma multiforme or malignant astrocytoma of the brain. In each case tumor response will be the primary endpoint of the study. Data on quality of life and survival will also be collected. Columbia University in New York will provide the epidemiological services to conduct the study and analyze the results. These studies will not be randomized, and there will be no control group. It is hoped that response rates will be significant enough to justify a large randomized controlled study in the future.
These tumor types were selected for study because Hufeland's best case series includes cases of them, because Hufeland's protocol does not include conventional agents in their treatment (unlike breast and prostate). In each, the median survival time is short enough to expect results within two years. The results of this study, if positive, would have vast implications for cancer medicine and would call for further study.
PHILOSOPHY OF TREATMENT (from Hufeland Clinic)
The Clinic's philosophy is that a disease is not only the disorder of a single organ, but an expression of a comprehensive disorder of the whole person in unity of body and soul. Holistic therapy is oriented to the individual causes that are believed to have led to the disease. Only when one eliminates as much as possible these causal factors can the healing power of nature develop to its fullest. Such a therapy neither fights against nature, nor destroys a person's immune system.
This treatment is based on a well-established concept developed by Dr. Josef Issels, a well-known German physician. It is predominantly a biological approach which rebuilds the body's immune system. It is believed that so called "causal factors" of various kinds can weaken particular organ systems, especially the immune system. If cancer grows in a weakened body, it finds an environment in which it is able to grow and develop easily. Without resistance, the cancer develops into a tumor, produces metastases, and weakens the entire organism. The cancerous tumor is thought to be only the symptom of a serious general chronic diseases. If the tumor is removed, only the symptom is gone. The disease is not cured and continues to exist.
OTHER CLINIC INFORMATION
Maximum number of patients: 53 inpatient
Dr. Woeppel started his Hospital in 1985 and has treated over 4000 inpatients, plus additional outpatients. The holistic program carried out at the Clinic includes:
Biological basic treatment for detoxification and regeneration by stimulating detoxifying functions of liver, kidneys and intestines with the unique healing springs of the Spa of Bad Mergentheim, by homeopathic medicines, vitamins, minerals, enzymes, multistep-oxygen-therapy and ozone therapy.
Special lacto-vegetarian diet to develop the healing influence of metabolism, allowing (but not encouraging) one serving of meat per week.
Immunotherapy to strengthen the body's natural defense mechanisms using fever therapy, thymus extract, biological response modifiers, hyperthermia (local and whole body).
Psycho-Spiritual therapies to strengthen the person's will to heal. Art, dance, music and meditation are part of the mind/body treatment approach.
Careful conventional treatments when necessary, and all conventional diagnostic methods
Examination of teeth using a pan tomogram with suggested corrective measures, as it is believed that the most important and dangerous foci (an inflammatory process which can exert remote negative effects on other organs or systems) for cancer patients can be in the teeth and/or tonsils.
COST OF TREATMENT
The cost of treatment includes doctor's consultations, medical treatment, ECG, laboratory findings, medicines within the basic treatment, room and board, etc.totals approximately 530-DM (Deutschemark) per day in the clinic. Without room and board, the cost is approximately 450-DM per day during treatment. In U.S. dollars this is approximately $250-300 per day, including treatments, exams and room and board. Extra medical services (used only if necessary), such as consultations with other specialists (dentist, etc.), or scans or hospitalization are an additional charge. A deposit of 8000-DM is required upon arrival and then every 4 weeks. Only cash and travelers checks are accepted. You will need to bring all documents relating to your illness, including physician's records, x-rays, and laboratory findings.
The Clinic only accepts patients who are not too weak and are ambulatory. When a patient is severely weakened, or suffers from jaundice or needs parenteral nutrition, treatment at the Clinic may not be possible. Also, it does not accept patients suffering from leukemia, AIDS, acute infectious diseases or serious heart conditions.
Note: A biological treatment will take time to feel its effect. After the intensive phase, therapy must be continued at home in cooperation with the personal physician. Upon leaving the Clinic, a plan is given for therapy at home. Usually at least 3-6 weeks is needed for treatment at the Clinic. Advanced cases (those with metastases and/or no further possibility of surgery, radiation or chemotherapy) may need 2 months.
INDICATIONS FOR TREATMENT/CONDITIONS TREATED
The Clinic treats malignant diseases of all kinds and stages, even if there are metastases in liver, lung or bones. It also treats patients with rheumatoid arthritis, those who are susceptible to infections, patients with digestive disorders, inflammatory bowel disease, liver disease, arteriosclerosis, systemic lupus, sarcoidosis, and chronic fatigue syndrome.
TREATMENT MODALITIES AVAILABLE
Stimulation of the detoxifying functions of the liver, kidneys and intestines using the healing springs of Bad Mergentheim
"Bloodwash" with special ozone therapy (2X/week)
Infusions with peroxide
Optimizing metabolism by multistep-oxygen therapy (special method created by M.V.Ardenne)
Regeneration and activation of body's defense system by means of thymus extract, mistletoe extract infusions, administering of antigens, trace elements, vitamins and minerals
Proteolytic enzymes to eliminate pathologic immune complexes
Active fever therapy to induce production of interferons and other modifiers of the immune system, sometimes administered simultaneously with low-dose chemotherapy.
Whole body hyperthermia
Localized hyperthermia (for liver metastases and others). Therapies with biological response modifiers and homeopathic medicines or medicines made from plants
Cleaning of the bowel using colon hydro-therapy
Regeneration of the intestinal flora with special diet and microbiological therapy
Neural therapy and acupuncture
Special electrotherapy
Psycho-Spiritual stabilization, using conversations, individual and group; depth relaxation (only in German at this point); respiratory feedback; group meditation; visualization (O. Carl Simonton method); color and art therapy including painting; blindfolded sculpting in clay; group singing
Specific treatment of cancer with surgery, low-dose chemotherapy or hormones, if urgently needed to halt tumor growth. Chemotherapy, when used, usually employs a single agent in lower than conventional doses, or briefer duration, sometimes combined with fever therapy. On rare occasions radiation therapy is recommended but not given onsite. Adjuvant radiation not generally recommended. Hormonal therapy is often used.
Pain treatment as needed
Diagnostics include a thorough internal examination, laboratory tests, electrocardiogram, sonography, endoscopy, radiodiagnostic, X-rays, NMR, CT, various other specialists available.